3 Course Basic
£120.00 / Per slot
3 course meal
4 hours long
Saturdays from 10am – 2pm
3 Course Gourmet
£170.00 / Per slot
3 course meal
4 hours long
Saturdays from 10am – 2pm
Ultimate Burger
£50.00 / Per slot
1 course meal
2 hours long
Last Friday of each month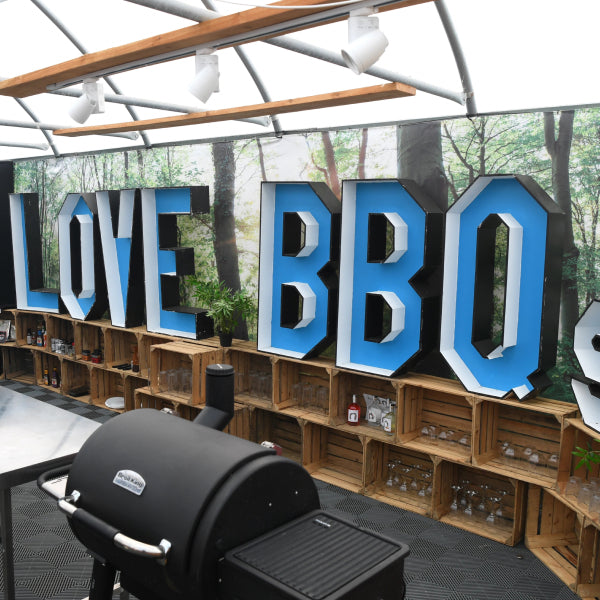 I want to share my passion with everybody who loves to grill
Our space is built for entertainment with not only a variety of different grills to cook on but a fully licenced bar serving locally brewed beers, speciality paired wines and very special locally distilled spirits. Our meat, fish and veg is all locally sourced and always will be!

Grilling is all about socialising with your friends in a relaxed atmosphere and having fun! I can teach you everything from how to serve up the most incredible "smash" burgers to how to wow with wonderful, sizzling steaks.

And it's not just about the meat! My wife, Sarah, cannot resist a few of my grilled lobster tails (handy to quickly dish up when I'm in the dog house) and I have amazing vegetarian and vegan dishes, all equally fabulous cooked on the grill!

Come along as an individual or book as a party!
We require 48 hours notice should you wish to cancel a booking. In this instance we can offer a refund or a change of date. Any less notice than this and the full price of the course will be charged.
Please note that, for insurance purposes, all guests must be aged 16 or over.
Exclusive classes can be scheduled outside of these times for groups of 6 or more, subject to availability.

Corporate classes and private hire events can be booked through sarah@hoggysgrill.com
Mark & Lisa – Retford, UK
What a fantastic day at Hoggy's Grill! We had so much fun cooking on the state of the art BBQ's with so many delicious and well sourced ingredients. Excellent wine and local beer too. Thank you Hoggy & Sarah for being such great hosts! Highly recommend
Tom & Jo – Lincolnshire, UK
At a time when we all crave experiences, Hoggy's Grill delivered! Whether you like cooking, cricket or chatting, this is something for everyone. Great food, wine, company; see you again soon!
Jules & Tom - Sheffield, UK
A fantastic experience at Hoggy's Grill. Covid safe & nothing was too much trouble. Hoggy clearly knows his stuff and it was great to hear the background story. Delicious, entertaining, fun & informative. Stunning location too, lots to do, see & plenty of places to stay. Cheers Hoggy!